In a world filled with moving and junk removal franchise companies, College Hunks Hauling Junk & Moving stands out as a unique and dynamic player in the industry. What sets us apart? Why should you consider us as a franchising opportunity? Let's delve into the core values and unique selling points that make College Hunks Hauling Junk & Moving a distinctive brand in the world of junk removal and moving franchise opportunities.
A Brand with Heart
College Hunks Hauling Junk & Moving isn't just a name; it's a representation of our core values. We pride ourselves on being a brand with heart. Our franchisees and team members are committed to providing outstanding customer service while maintaining a strong sense of community involvement. Our "Move the World" philosophy extends beyond moving and junk removal; it's about making a positive impact on the lives of our clients and the communities we serve.
Exceptional Customer Service
We go above and beyond to ensure our customers' needs are met with care and professionalism. Our well-trained teams are known for their courteousness, punctuality, and efficiency. We're not just moving and junk removal experts; we're people experts too. We understand that every move or removal is unique, and we tailor our services to meet individual requirements.
Eco-Friendly Practices
In an era where environmental consciousness is paramount, College Hunks Hauling Junk & Moving leads the way with its commitment to eco-friendly practices. We take responsible disposal seriously by recycling or donating items whenever possible and diverting waste from landfills. Our franchise owners can take pride in running businesses that are environmentally responsible and aligned with modern sustainability values.
Comprehensive Training and Support
When you join the College Hunks family, you gain access to an extensive support network. We provide thorough franchise training programs that cover all aspects of the business, from operations to marketing. Our ongoing support includes marketing assistance, technology tools, and a network of fellow franchisees who are ready to share their experiences and knowledge.
Strong Brand Recognition
College Hunks Hauling Junk & Moving is not just any moving company; it's a recognizable and reputable brand. Our bright orange trucks, catchy name, and excellent online reviews have helped us build a strong presence in the market. When you invest in a College Hunks franchise, you benefit from the instant credibility and brand recognition that come with it.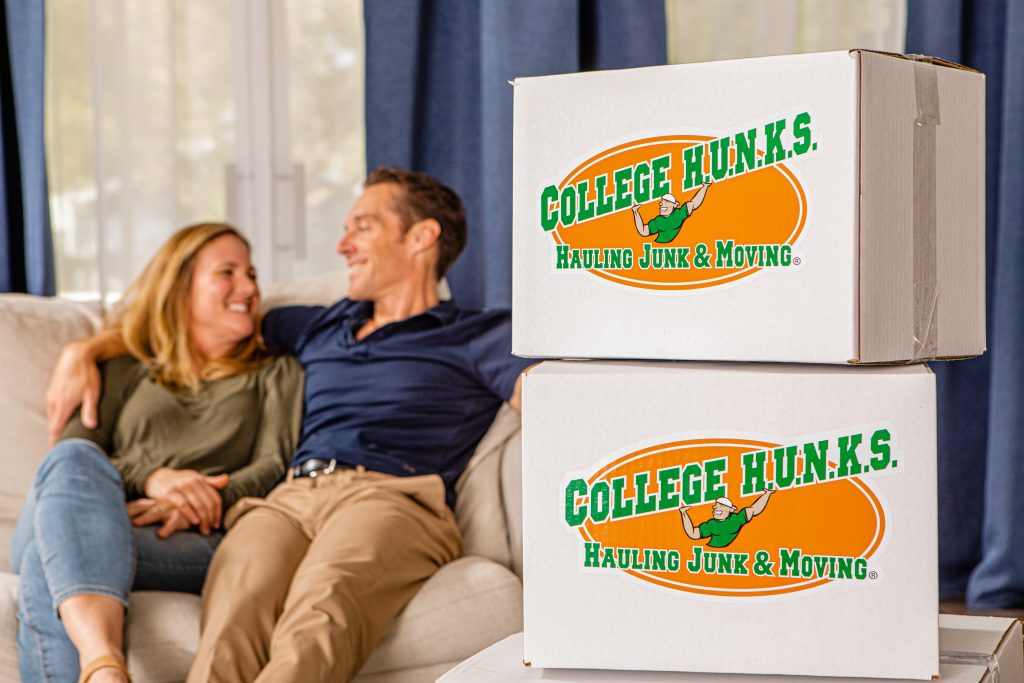 Innovative Technology
In a digitally driven world, we embrace technology to enhance the customer experience and streamline operations. From scheduling and customer management to logistics and marketing, our franchise owners have access to cutting-edge tech tools that give them a competitive edge in the industry.
A Culture of Leadership
Our brand thrives on leadership and empowerment. We encourage our franchisees and team members to take initiative, solve problems, and lead by example. College Hunks Hauling Junk & Moving isn't just about business; it's about personal growth and leadership development.
Community Involvement
One of the hallmarks of College Hunks Hauling Junk & Moving is our commitment to giving back to the local communities we serve. Our franchise owners actively engage in community events, charity drives, and volunteer work. Whether it's assisting with local clean-up initiatives, donating items to those in need, or participating in charity runs, our franchisees are deeply rooted in their communities.
Through our "H.U.N.K.S." acronym, which stands for "Honest, Uniformed, Nice, Knowledgeable Service," we strive to embody these values not only in our business but also in our interactions with the communities we operate in. We believe that by being active and engaged members of our local neighborhoods, we can make a meaningful and lasting impact beyond our moving and junk removal services.
What sets College Hunks Hauling Junk & Moving apart from the competition is a combination of heartfelt values, exceptional customer service, commitment to sustainability, comprehensive support, strong brand recognition, innovative technology, a culture of leadership, and a dedication to community involvement. When you invest in a College Hunks franchise, you're not just joining a business; you're becoming a part of a brand that's dedicated to making a positive impact on the world, one move at a time. Contact us today and join us to "Move the World" in more ways than one.