When you start a junk removal business it can be a significant endeavor, and for many entrepreneurs, the question of whether to go it alone or join a franchise network is a crucial decision. While building a brand from scratch has its merits, joining a well-established franchise can offer numerous advantages that significantly increase your chances of success.
In this blog post, we'll explore the compelling benefits of becoming a part of College Hunks Hauling Junk & Moving and how our brand recognition can be a game-changer for your entrepreneurial journey. We are not just any franchise; we are a household name that has been featured on popular shows like Shark Tank, House Hunters, Hoarders: Buried Alive, and even earned the nod of approval from Oprah. These high-profile media appearances have not only showcased our innovative business model but have also solidified our reputation as a trusted and nationally recognized brand, attracting a broad customer base and creating a strong foundation for franchisees to thrive within our network.
Instant Brand Recognition
One of the most obvious advantages of joining a well-established franchise like College Hunks Hauling Junk & Moving is the instant brand recognition that comes with it. Our brand has become synonymous with professionalism, reliability, and exceptional service in the junk removal and moving industry. When you carry the College Hunks name, you benefit from the trust and credibility it has built over the years.
Established Reputation
Building a strong reputation takes time, effort, and consistent performance. By joining our franchise, you inherit the goodwill and reputation that College Hunks Hauling Junk & Moving has painstakingly cultivated. This established reputation can open doors for your business, making it easier to attract customers, secure partnerships, and build relationships within your local community.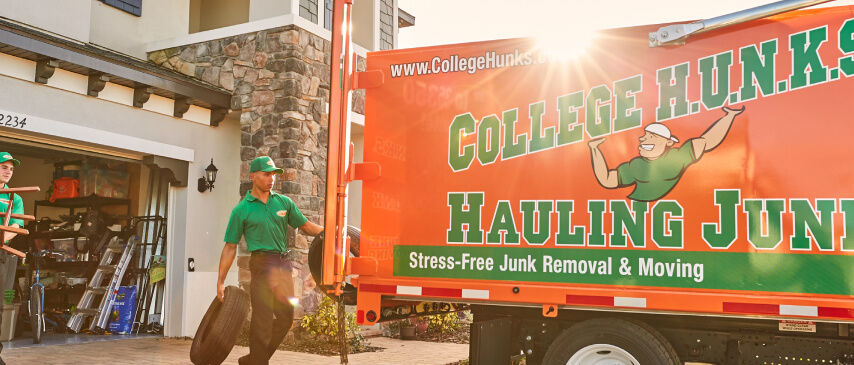 Marketing and Advertising Support
Effective marketing and advertising are essential for any business's success. As a franchisee, you don't have to start from scratch. College Hunks Hauling Junk & Moving provides marketing and advertising support that includes:
Branded Materials: Access to professionally designed marketing materials and collateral that convey a consistent brand image.

National and Local Advertising: Benefit from national advertising campaigns that create brand awareness on a broader scale, while also having the flexibility to tailor local advertising efforts to your specific market.

Online Presence: A strong online presence is crucial in today's digital age. The franchise offers support in managing your website, social media profiles, and online marketing strategies.
Operational Support
Running a business involves various operational challenges. As a franchisee, you can tap into the operational expertise and support offered by College Hunks Hauling Junk & Moving. This support includes:
Training Programs: Comprehensive franchise training programs that equip you with the knowledge and skills to efficiently operate your business.

Efficient Systems: Access to proven systems and processes that optimize operations, enhance customer service, and maximize profitability.

Supply Chain Benefits: Leveraging the franchise's purchasing power for cost-effective supplies and equipment.
Established Network and Partnerships
College Hunks Hauling Junk & Moving has established relationships with various partners and vendors. These partnerships can benefit franchisees by providing access to resources, discounts, and opportunities that might not be available to independent businesses.
Ongoing Research and Development
The franchisor continually invests in research and development to stay ahead of industry trends and customer preferences. As a franchisee, you can leverage the results of this research to adapt and innovate in response to changing market dynamics.
Joining a well-established franchise like College Hunks Hauling Junk & Moving is more than just a business decision; it's a strategic move that can significantly boost your chances of success. Instant brand recognition, established reputation, marketing and operational support, and access to a network of partners are just some of the advantages that can make a substantial difference in your entrepreneurial journey.
When you choose to carry the College Hunks name, you're not just starting a business; you're joining a trusted brand with a track record of excellence in the junk removal and moving industry. It's a decision that can set you on the path to business success with a head start in building your dream venture.
Contact us and join College Hunks today with your very own junk removal and moving franchise!